翻訳者の方々へ / To translators
マンボウPのyoutubeチャンネルは現在非常に多くの国の方に視聴して頂いております。それはひとえにyoutubeの字幕投稿機能を使って様々な言語の字幕を作成してくださっている方々のおかげです。
改めて感謝をお伝えすると同時に、もっと簡単に字幕を制作できるようにtxtファイルを公開します。ファイル内で字幕を表示するタイミングがすでに設定されているため、翻訳した歌詞を入力するだけで字幕が完成します。
Manbo-p's youtube channel is viewed in many countries. This is all thanks to translators who make subtitles in various languages. We deeply appreciate it!
I publish the TXT files so that you can produce subtitles more easily.
Since the timing for displaying the subtitles is already set in it, you just enter the translated lyrics.
txtファイルの使い方 / How to use the txt files
1.[Download List]から翻訳したい曲のtxtファイルをダウンロードしてください。日本語から翻訳したい方は「日本語」、英語から翻訳したい方は「English」のファイルを使うと便利です。/ Download the TXT file of the song you want to translate from the [Download List]. It is convenient to use "日本語" file if you want to translate from Japanese, and "English" file is suitable to translate from English.
2.txtファイルをテキストツール(word, メモ帳、テキストエディットなど)で開き、翻訳した歌詞を入力してください。ファイルを保存する際、ファイル形式は.txtのままにしてください。 / Open the TXT file and edit by text editor (Word, Notepad, etc.).  Save it as .txt file.

3.翻訳した曲のyoutubeページを開き、字幕を作成をクリックしてください。/ Access the youtube page of the song that you translated and click "add translations".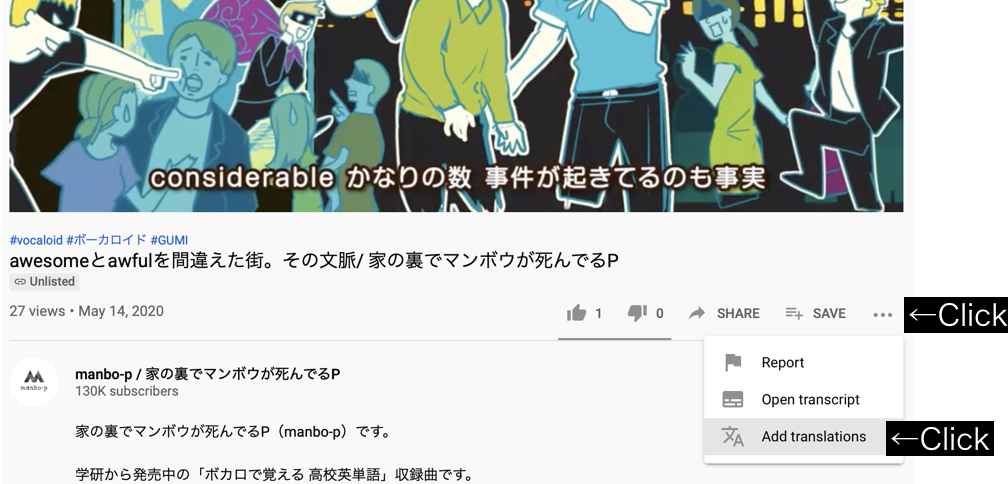 4.あなたが翻訳した言語を選択してください。 / Select the language that you translated to.

5.字幕をアップロードして投稿してください。/ Upload your TXT file, and submit.

6.マンボウPが確認した後、字幕が公開されます。/ The subtitles you have created will be published after manbo-p has confirmed them.
Download list
txt

募集中

/

作成済み   

Wanted /

Already published

日本語

English

Spanish

Korean

Russian

Italian

Chinese (Traditional)

Chinese (Simplified)

Portuguese (Portugal)

Portuguese (Brazil)

French

German

Czech

Polish

Turkish

Hebrew

Indonesian

Vietnamese

Thai

other

日本語

English

Spanish

Korean

Russian

Italian

Chinese (Traditional)

Chinese (Simplified)

Portuguese (Portugal)

Portuguese (Brazil)

French

German

Czech

Polish

Turkish

Hebrew

Indonesian

Vietnamese

Thai

other

日本語

English

Spanish

Korean

Russian

Italian

Chinese (Traditional)

Chinese (Simplified)

Portuguese (Portugal)

Portuguese (Brazil)

French

German

Czech

Polish

Turkish

Hebrew

Indonesian

Vietnamese

Thai

other

日本語

English

Spanish

Korean

Russian

Italian

Chinese (Traditional)

Chinese (Simplified)

Portuguese (Portugal)

Portuguese (Brazil)

French

German

Czech

Polish

Turkish

Hebrew

Indonesian

Vietnamese

Thai

other

日本語

English

English

Spanish

Korean

Russian

Italian

Chinese (Traditional)

Chinese (Simplified)

Portuguese (Portugal)

Portuguese (Brazil)

French

German

Czech

Polish

Turkish

Hebrew

Indonesian

Vietnamese

Thai

Other

日本語

English

Spanish

Korean

Russian

Italian

Chinese (Traditional)

Chinese (Simplified)

Portuguese (Portugal)

Portuguese (Brazil)

French

German

Czech

Polish

Turkish

Hebrew

Indonesian

Vietnamese

Thai

other

日本語

English

Spanish

Korean

Russian

Italian

Chinese (Traditional)

Chinese (Simplified)

Portuguese (Portugal)

Portuguese (Brazil)

French

German

Czech

Polish

Turkish

Hebrew

Indonesian

Vietnamese

Thai

other

日本語

English

Spanish

Korean

Russian

Italian

Chinese (Traditional)

Chinese (Simplified)

Portuguese (Portugal)

Portuguese (Brazil)

French

German

Czech

Polish

Turkish

Hebrew

Indonesian

Vietnamese

Thai

other

日本語

English

Spanish

Korean

Russian

Italian

Chinese (Traditional)

Chinese (Simplified)

Portuguese (Portugal)

Portuguese (Brazil)

French

German

Czech

Polish

Turkish

Hebrew

Indonesian

Vietnamese

Thai

other

日本語

English

Spanish

Korean

Russian

Italian

Chinese (Traditional)

Chinese (Simplified)

Portuguese (Portugal)

Portuguese (Brazil)

French

German

Czech

Polish

Turkish

Hebrew

Indonesian

Vietnamese

Thai

other

日本語

English

Spanish

Korean

Russian

Italian

Chinese (Traditional)

Chinese (Simplified)

Portuguese (Portugal)

Portuguese (Brazil)

French

German

Czech

Polish

Turkish

Hebrew

Indonesian

Vietnamese

Thai

other

日本語

English

Spanish

Korean

Russian

Italian

Chinese (Traditional)

Chinese (Simplified)

Portuguese (Portugal)

Portuguese (Brazil)

French

German

Czech

Polish

Turkish

Hebrew

Indonesian

Vietnamese

Thai

other

日本語

English

Spanish

Korean

Russian

Italian

Chinese (Traditional)

Chinese (Simplified)

Portuguese (Portugal)

Portuguese (Brazil)

French

German

Czech

Polish

Turkish

Hebrew

Indonesian

Vietnamese

Thai

other

日本語

English

Spanish

Korean

Russian

Italian

Chinese (Traditional)

Chinese (Simplified)

Portuguese (Portugal)

Portuguese (Brazil)

French

German

Czech

Polish

Turkish

Hebrew

Indonesian

Vietnamese

Thai

other

日本語

English

Spanish

Korean

Russian

Italian

Chinese (Traditional)

Chinese (Simplified)

Portuguese (Portugal)

Portuguese (Brazil)

French

German

Czech

Polish

Turkish

Hebrew

Indonesian

Vietnamese

Thai

other

日本語

English

Spanish

Korean

Russian

Italian

Chinese (Traditional)

Chinese (Simplified)

Portuguese (Portugal)

Portuguese (Brazil)

French

German

Czech

Polish

Turkish

Hebrew

Indonesian

Vietnamese

Thai

other

日本語

English

Spanish

Korean

Russian

Italian

Chinese (Traditional)

Chinese (Simplified)

Portuguese (Portugal)

Portuguese (Brazil)

French

German

Czech

Polish

Turkish

Hebrew

Indonesian

Vietnamese

Thai

other

日本語

English

English

Spanish

Korean

Russian

Italian

Chinese (Traditional)

Chinese (Simplified)

Portuguese (Portugal)

Portuguese (Brazil)

French

German

Czech

Polish

Turkish

Hebrew

Indonesian

Vietnamese

Thai

other

日本語

English

Spanish

Korean

Russian

Italian

Chinese (Traditional)

Chinese (Simplified)

Portuguese (Portugal)

Portuguese (Brazil)

French

German

Czech

Polish

Turkish

Hebrew

Indonesian

Vietnamese

Thai

other